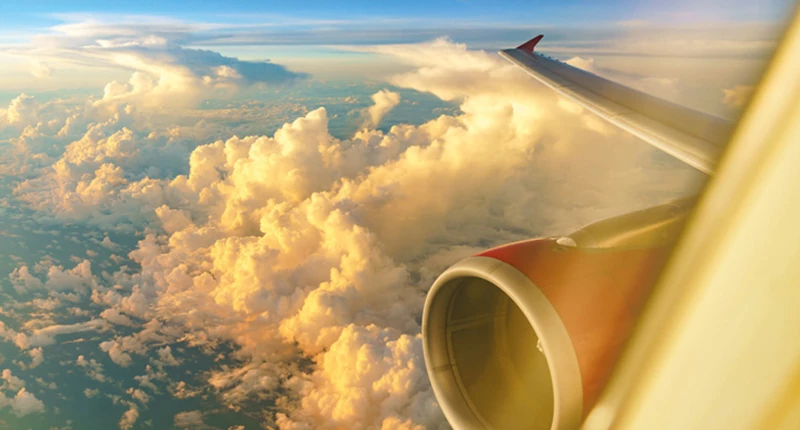 Richard Way looks at why the property market in Murcia, Spain will benefit following the opening of the brand-new Corvera Airport.
Ten years after construction began, six years after completion and after a number of aborted take-offs, Murcia International Airport in Corvera was opened by King Felipe of Spain on January 15. The occasion was marked by the touch-down of its first commercial flight – a Ryanair service from the East Midlands.
The new air hub (Región de Murcia International Airport) promises to become a major gateway to southeast Spain and to give the region of Murcia the lift it needs after years of waiting for its airport (and not getting the long-heralded Paramount theme park that is not going to happen now).
The new airport offers a larger capacity and better facilities than the previous option for travellers to the region – the predominantly military airport at San Javier, which has ceased commercial operations altogether. Like Ryanair, easyJet also launched UK flights to Murcia International in January. Other airlines starting routes there include TUI, Norwegian Air and Jet2, with more expected during the summer.
Compared to San Javier, the new airport's location near the village of Corvera – 25 minutes inland between the cities of Murcia and Cartagena – makes it a slightly longer transfer for homeowners next to the Mar Menor and in Orihuela Costa. However, the increased choice of airlines and the frequency of flights should more than make up for this; and it's more convenient than Alicante airport, by about 20-25 minutes, in driving terms.
"Normally, at this time of year you might see four flights a day into San Javier," Roy Howitt at Medland Spain said last month. "By contrast, Murcia International handled 16 flights on day one alone. Operator Aena is offering major incentives in the form of lower landing costs.
Better international links are also on the horizon. "It's a bigger airport that will be open all day, so should be able to handle more flights from different countries," Matt Oakley at Murcia Golf Properties said. "I have noticed that already easyJet has increased the size of its planes flying to Murcia, from around 170 seats to 220, and they're filling up. Having direct flights from Scandinavia and northern Europe will be great for the market too.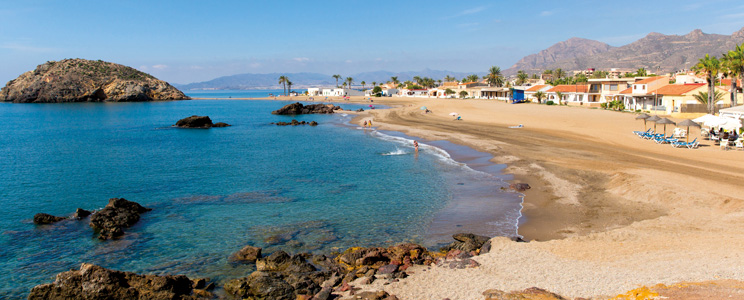 In terms of property, the effect of improved air access is almost guaranteed to create opportunities locally and further afield. "Inland areas like Sucina, Balsicas and the Polaris golf resorts should see an increase," Mr Howitt said.
"There are planned new developments around the airport and in Cartagena with the expansion of the cruise terminal. But it will also open up areas around Mazarrón, where one developer has just announced a new development of 300 properties in Isla Plana, and in Almería."
Murcia - playing catch up?
Foreign interest in Murcia and its Costa Cálida began rising before the new airport opened. It was one of the strongest performing Spanish regions last year in terms of increased property transactions and average price rises.
Especially popular are the coastal resorts around the Mar Menor, which are more traditional, less developed and quieter out of season than those in Orihuela Costa, part of the southern Costa Blanca which has become packed with new developments.
"Most of our clients buy on the edge of the Mar Menor between Los Alcázares and San Pedro del Pinatar and Lo Pagán," Monique Bergmann, based at the Los Alcázares office of HomeEspaña, said. "People like this area because you're right on the coast, it's flat, there is the Dos Mares shopping centre in San Javier and typically you have all the amenities you need within walking distance. Compared to Orihuela, the beaches are longer with long promenades and more space for everyone, which means less crowding in the summer." 
In these areas, resale apartments within a 10-minute walk from the beach and amenities start from €60,000-€65,000, or €165,000 for a large three-bedroom townhouse, Ms Bergmann said. 
"Many developments don't have communal pools," she added. "It's all about being close to the beach. Another plus point is the slight difference in buying costs – transfer tax levied on resales is only 8 per cent in Murcia compared with 10 per cent in the Costa Blanca, part of the Valencia region."
Despite rising values, prices in Murcia's hot spots are yet to catch up with its neighbour. Agents are seeing clients familiar with the Costa Blanca being lured to Murcia when they see how much further their money goes. Given the speed of development, how much longer this will be the case is unknown.
Download our free guide to buying a property in Spain
 "The area is deemed the new Orihuela Costa," Karsten Ryder at Vincent Real Estate said. "Town planners appear to have looked at Orihuela costa as being a template for the future development of the Murcian coast and hinterlands. The vast majority of developments are occurring in a corridor, at a maximum 30 minutes' drive from the coast, giving tourists the best of all worlds – golf and beach." Recent clients of Mr Ryder include a couple under 50 who bought an apartment on a golf course, less than 15 minutes from the coast, for less than €70,000.
Detached villas, including new-build, represent especially good value, thanks to land prices being lower in Murcia. By comparison with Orihuela Costa, like-for-like properties within walking distance of the beach are about  20-25 per cent cheaper. 
"A recent client bought a three-bedroom detached villa with a pool, located 700 metres from the beach, between San Pedro and Santiago for €310,000 off-plan," Mr Howitt said.  "It would have cost him over €400,000 around Villamartín [on the Orihuela Costa] and it would likely be on a smaller plot, probably surrounded by properties. In the hot spots of the north and south Costa Blanca, it is impossible to find a three-bedroom villa with a pool within a kilometre of the beach for €250,000, but in Murcia, we can."
Tee time in Murcia?
The opening of the new airport also makes owning on one of Murcia's golf resorts, which not so long ago were rife with bank repossessions, an attractive proposition. A number of these, including certain Polaris World resorts, are seeing reinvestment and buoyant resale markets. Most are within 20-25 minutes of the new airport. 
"The three most popular Polaris World golf resorts right now are Mar Menor,  La Torre and Hacienda Riquelme, which we consider the best of the bunch," Matt Oakley, whose company Murcia Golf Properties focuses mainly on the resorts in the Mar Menor-La Manga area, said. "We also sell on Hacienda del Alamo where there's been a lot of investment, including the new hotel that opened at the end of last year."
Buyers on lower budgets have plenty of choice in La Torre and Hacienda Riquelme (apartments only), where €80,000-€90,000 will get you a two-bedroom apartment. At La Torre, expect to pay €105,000-€130,000 for a two-bedroom townhouse and upwards of €135,000 for a two-bedroom villa.
At the more established Mar Menor resort, two-bedroom apartments are marginally larger and more expensive, with frontline units selling for €130,000€150,000. There, two-bedroom villas start at circa €150,000.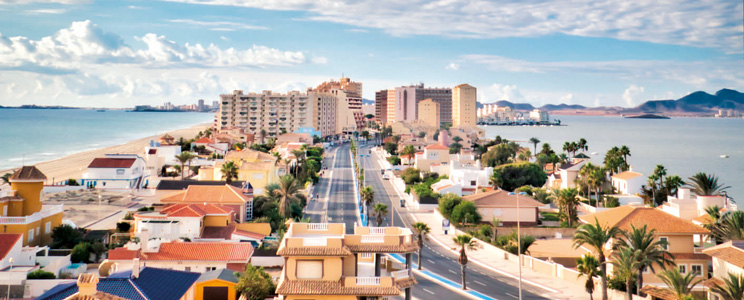 "These days the majority of transactions at La Torre and Hacienda are resales," Mr Oakley said. "The banks have offloaded most of their repossessed stock there. 
"At Mar Menor, the bank has around 100 units left, down from around 700 from when it first did a debt-for-equity swap. Bear in mind, repossessions are now often no cheaper than the resale equivalents and can even be more expensive when you factor in having to buy furniture, unlike with most resales."
For year-round residency, Mr Oakley suggests Mar Menor because it has more activities and more going on year-round. Despite the menace of Brexit, at least 60 per cent of his clients buying on golf resorts at present are Britons. Considering how close they are to a new international airport, it's not hard to see why.
View these hot properties for sale in Murcia